Project Management Guide: What is PM, How to Work as Project Manager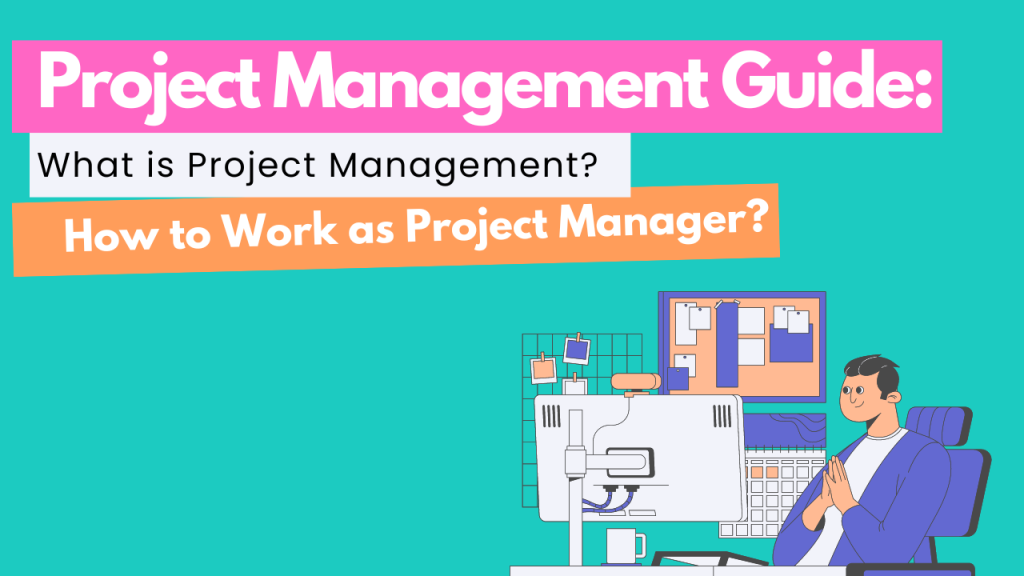 In this Project Management Guide, I have refined the knowledge and expertise I gained from both the Google Project Management certification program and my real-life experiences as a project manager. The guide offers practical tips and advice that can help you overcome common project management challenges and achieve success in your projects.

I recently started attending Google's professional certificate program in project management, and it is currently helping me to enhance my project management knowledge.

The Google Professional Certificate consists of six fundamental courses that focus on topics like: Project management fundamentals; Goals, objectives, and deliverables; Risk management; Team dynamics; Project management methodologies; Data-driven decision making; and more.

It is well-structured, focused, and informative, with plenty of hands-on experience. As I move forward in the course material, I realized that if I shared my knowledge with more people, it would remain more intact even after a while.

Long story short, here I am.

Of course, my goal here is not to explain the training program itself, but rather the information it provides. To summarize, I strongly advise anyone interested in a career in project management to pursue it.

There is a lot to know about project management and starting out in this field can be difficult, which is why this project management series aim to teach you about what exactly project management is, how to make the transition from your current career into the field of project management, and some of the types of job roles a project managers might do.

If you're interested in a career in project management, here's a quick guide to what project managers do and how you can become one.
What is a project management career?
A project management career is a very attractive proposition for many people. This position requires planning, organizing, and controlling resources in order to achieve specific goals and objectives. Project management is a demanding profession, but it can also be extremely rewarding. Here's everything you need to know about pursuing a project management career.

The Project Management Institute is the leading association for those in project, program, or portfolio management professions.

The Scrum Guide defines Scrum, a technique used in Agile project management.But let's define the term project management first:

What exactly is project management?
Briefly, Project Management is the application of knowledge, skills, tools, and techniques to meet the project requirements and achieve the desired outcome. (Source: APM)

According to the (PMI) Project Management Institute's Job Growth and Talent Gap Report, the project management labor force in seven project-oriented sectors is expected to grow by 33 percent, or nearly 22 million new jobs, by 2027* So having an official PMP or even CAPM certificate is very important to pursue a job in the project management career.

In order to pursue a career in project management, it is important to have a clear understanding of what the role entails.

How to Gain Your PMP Certification
Earning your PMP Certification requires dedication, which is why it is so valuable. Do you have successful real-world project management experience? You've completed the most difficult part. Before applying, ensure that you meet the following PMP Certification requirements:
A four-year degree
36 months leading projects
35 hours of project management education/training or CAPM® Certification
— OR —
A high school diploma or an associate's degree (or global equivalent)
60 months leading projects
35 hours of project management education/training or CAPM® Certification
What qualifications do I need?
Pursuing a career in project management typically requires a bachelor's degree in a relevant field such as business administration or engineering. Besides, many employers also value experience and seek candidates with several years of experience working in projects.

Furthermore, it involves setting clear objectives, assigning responsibility for each task, and ensuring that everyone is working towards the same goal. In addition, you must be able to effectively communicate with all members of the project team, as well as stakeholders.

As a project manager, you'll also need to track progress and report back to clients or shareholders on the status of the project.

Good project management skills are essential for keeping things on track and meeting deadlines. Hence, it is essential to have a deep understanding of how to effectively manage both people and resources.

Maintain strong communications
Planning and organizing,
Managing tasks,
Budgeting,
Controlling costs and other factors.
What does a project manager do in practice?
A project manager is a professional who is responsible for planning, organizing, and directing the work of a team to achieve a specific goal. In practice, project managers often have a wide range of roles and responsibilities.

You, as the project manager, may be in charge of maintaining the entire project from start to finish, or you may be brought in at particular points to provide guidance and ensure that the project stays on track.

However, it is important to note that a project manager is responsible for ensuring that a project is completed on time, within budget, and to the required standards.

In either case, you will typically have a deep understanding of how to effectively manage both people and resources.

For example, you will use this knowledge to develop schedules, set milestones, and monitor progress. Furthermore, you will work closely with other members of the team to identify risks and potential problems so that they can be addressed quickly.

Nonetheless, despite being a professional with vast responsibilities, you should always be able to effectively communicate with all members of the project team, as well as stakeholders.
Project management is a critical skill in today's business world. With the ever-increasing complexity of projects, more and more organizations are turning to project managers to help them get the job done right.
How does one structure the project team?
A project manager is responsible for defining the project team and its structure. The project team is typically composed of a group of individuals with various skillsets who work together to complete the project. The project manager is responsible for ensuring that the team works together efficiently and effectively to complete the project.
Different types of roles for different types of career paths
There are different types of roles for different types of career paths. For project management, there are different types of roles such as product manager, project manager, operations manager, program manager, portfolio manager, software development manager etc. Sometimes the position itself can not be a project management but it can involve all the critical project management phases or even more projects involved. Therefore be mindful and always read the job descriptions when you are pursuing a pm position. Keep in mind that depending on your career path, you may find that one type of role is a better fit for you than another.
Conclusion
A career in project management has a lot of possibilities! You are positioning yourself to be a substantial contribution to any organization with each step you take along your career path. I've written about a few possible job titles and roles you could look for when you start looking into project management positions but there are of course many more. The ability to employ a set of skills in a variety of jobs and professional pathways is known as a transferable skill. You can probably use your transferrable skills in project management positions across a wide range of sectors.
Choosing the Right Project Management Position
Try to respond to one or more of the following questions when applying for jobs in the project management industry:
Consider both your current position and any previous positions you may have held. Which skills are important for a project management position?
Consider the multiple project management job categories that were discussed in this article. Which ones are you most interested in? Why?
Consider your present career path and industry. What do you like about working in this field? What other industries are you interested in exploring? Why?
Project management is a field that is constantly evolving, and there are many different ways to approach it. The most important thing is to find what works best for you and your team. With the right tools and techniques, you can set your project up for success. And with the help of this guide, you will be well on your way to becoming a project management pro.