PMBOK Guide: The Ultimate PM Resource
In the world of project management, the PMBOK guide has become a household name. First introduced in 1987, it has been the go-to guide for project managers worldwide. The PMBOK guide has undergone several revisions and updates since then, with the most recent update being the seventh edition.
Are you a project manager, product owner, executive leader, or part of the project value delivery chain? If so, you know that delivering successful outcomes is essential. That's where the Project Management Body of Knowledge (PMBOK) comes in. For over three decades, the PMBOK has been a trusted guide for project management professionals worldwide, providing knowledge, terminology, guidelines, and tools for successful project delivery. And with the release of the seventh edition, the PMBOK has undergone significant changes. In this article, we'll explore what the PMBOK is, what the latest edition entails, and how it can help you deliver value to your organization and stakeholders. Get ready to take your project management skills to the next level!
What is PMBOK?
PMBOK stands for Project Management Body of Knowledge. It is a guide that provides a standard for project management processes, terminologies, and guidelines. The guide is published by the Project Management Institute (PMI), a global non-profit organization that promotes project management standards and best practices. The PMBOK guide is recognized globally and is considered one of the most important references for project management professionals.
PMBOK has undergone several revisions since its introduction. The first edition, published in 1987, included five process groups and nine knowledge areas. Since then, several updates have been made to the guide to reflect changes in project management practices and to include new knowledge areas. The sixth edition, which was published in 2017, had ten knowledge areas and five process groups.
According to a survey conducted by PMI, 70% of organizations that use PMBOK have reported increased project success rates. This statistic shows that PMBOK is a reliable methodology for improving project outcomes. Additionally, the same survey found that organizations that use PMBOK have a 20% lower project failure rate than those that don't.
Why Use PMBOK?
Using PMBOK can help you deliver successful project outcomes by providing you with a standardized approach to project management. By following the best practices outlined in PMBOK, you can ensure that your project is completed on time, within budget, and to the required quality standards.
Using PMBOK can also help you to:
Improve your project management skills and knowledge
Ensure consistency across your project management processes
Enhance communication and collaboration within your project team
Increase stakeholder satisfaction by delivering successful project outcomes
The Seventh Edition of PMBOK
The seventh edition of the PMBOK guide was released in August 2021. It represents a significant shift in the guide's approach, from a process-based standard to a principles-based standard. This change was made to reflect the evolving nature of project management and to focus on intended outcomes rather than deliverables.
The PMBOK Guide, Seventh Edition, provides an updated framework for project management that reflects the full range of development approaches, including predictive, traditional, adaptive, agile, and hybrid. The latest edition also includes a section devoted to tailoring the development approach and processes, making it easier to customize project management processes to meet specific project needs.
How does PMBOK Guide, Seventh Edition, help with effective project management?
The PMBOK Guide, Seventh Edition, provides a comprehensive guide to effective project management. The Seventh Edition presents 12 principles of project management and eight project performance domains. These principles and performance domains are critical for the successful delivery of project outcomes. They represent a PM system of interactive, interrelated, and interdependent management capabilities that work in unison to achieve desired project outcomes.
The PMBOK Guide, Seventh Edition, helps project management professionals manage resources effectively and focus on value delivery for portfolios, programs, and projects. It guides the project management body of knowledge and the best practices required for effective project management.
What are the key features of PMBOK Guide, Seventh Edition
The shift from knowledge areas to performance domains reflects a systems view of project management. The shift emphasizes the importance of focusing on the value chain. The value chain links projects and other business capabilities to advancing organizational strategy, value, and business objectives.
The latest PMBOK guide also includes a dedicated section on tailoring. It guides how to tailor the project management approach to the unique characteristics of each project and its context.
Moreover, the Seventh Edition expands the list of tools and techniques in a new section, "Models, Methods, and Artifacts. So that, project management professionals can use to manage resources effectively. Additionally, the Seventh Edition focuses on project outcomes and deliverables, which helps project management professionals measure the success of their projects.
Models are simplified representations of real-world situations or systems that help project teams understand and make decisions about the project. Methods are systematic approaches to accomplishing project management tasks, such as risk management or quality management. Artifacts are tangible outputs of project management processes, such as project charters or stakeholder registers.
By providing a broader view of models, methods, and artifacts, the seventh edition of the PMBOK Guide helps project teams select the right tools and techniques for their specific project needs.
Comparison Between The PMBOK® Guide Seventh Edition and The PMBOK® Guide Sixth Edition
The PMBOK® Guide – Seventh Edition and Sixth Edition both provide guidance on project management. However, the organization and content of the two editions differ significantly.
The Sixth Edition of the PMBOK® Guide has a more traditional structure. It shows knowledge areas covering various project management aspects, such as scope, schedule, cost, quality, resources, communication, risk, procurement, and stakeholders. These knowledge areas groups together under Integration, which deals with the coordination and management of all project aspects.
The Seventh Edition of the PMBOK® Guide has a new structure, with a focus on value delivery and project performance domains. The project performance domains represent the areas in which project managers need to demonstrate proficiency to deliver value.
This systems view reflects a shift from the Knowledge Areas in past editions of the PMBOK Guide to eight project performance domains. A performance domain is a group of related activities that are critical for the effective delivery of project outcomes. Collectively, the performance domains represent a project management system of interactive, interrelated, and interdependent management capabilities that work in unison to achieve desired project outcomes.
Project Management Performance Domains:
Stakeholders
Team
Development Approach and Life Cycle
Planning
Project Work
Delivery
Measurement
Uncertainty
Project Management Principles
Stewardship
Tailoring
Team
Quality
Stakeholders
Complexity
Value
Risk
Systems Thinking
Adaptability and Resiliency
Leadership
Change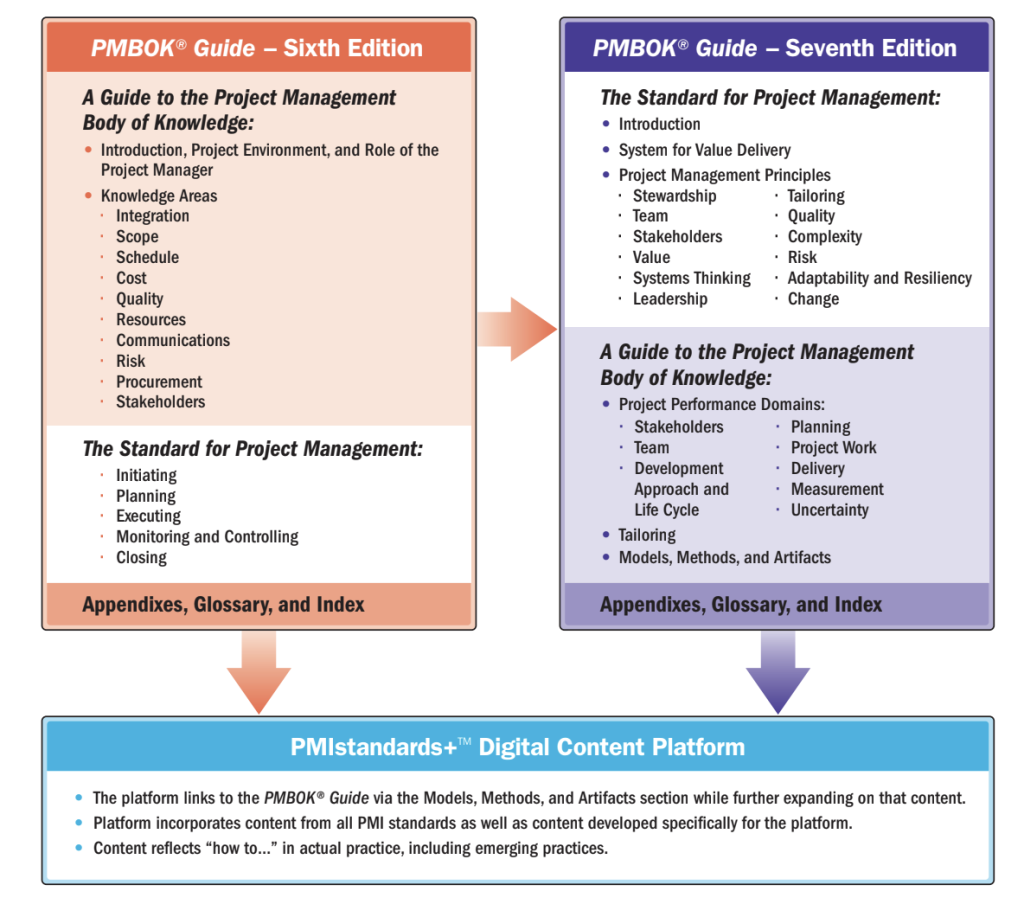 The Seventh Edition of the PMBOK® Guide is more flexible and customizable than the Sixth Edition, as it emphasizes the importance of tailoring project management practices to suit the specific needs of each project. The guide provides guidance on how to tailor project management approaches to address the unique characteristics of a project, such as its size, complexity, and level of uncertainty.
The Seventh Edition of the PMBOK® Guide also includes new topics, such as stewardship, which emphasizes the ethical and social responsibility of project managers, and models, methods, and artifacts, which guide the use of different tools and techniques to manage projects.
The new edition of the PMBOK guide represents a significant shift in the approach to project management. The move from a process-based standard to a principles-based standard reflects the evolving nature of project management and the need to focus on intended outcomes rather than deliverables. The shift to performance domains and the systems view of project management emphasizes the importance of focusing on the value chain that links projects and other business capabilities to advancing organizational strategy, value, and business objectives. The dedicated section on tailoring provides guidance on how to tailor the project management approach to the unique characteristics of each project and its context.

Overall, the new edition of the PMBOK guide provides project managers with the most up-to-date information and best practices to effectively manage projects and deliver value to their organizations and stakeholders.

If you are interested in project management, you could also check my article on Projects vs. Operations: The Differences